.
Re-Wired / Re-Mixed:
Event for Dismembered Body

RE-WIRED / RE-MIXED: Event for Dismembered Body was an internet enabled performance that explored the physiological and aesthetic experience of a fragmented, de-synchronized, distracted and involuntary body – wired and under surveillance online. For five days, six hours a day, wearing a video headset and sound cancelling earphones, the artist could only see with the "eyes" of someone in London, whilst only hearing with the "ears" of someone in New York. The body was also augmented by a 7 degree-of-freedom exoskeleton enabling anyone anywhere to program involuntary movement of his right arm, using an online interface. In the gallery space itself, the choreography could be generated via a large touch-screen. What the artist was seeing and hearing could be experienced in the gallery space with a video projection and sound system. With his shadow projected on the wall behind him the choreography was flattened into one visual, coherent and chimeric phantom spectacle.
The body was indifferent but not insensitive. Disturbed but not dismayed. Not a split mind and body but merely a body with split physiology. There was movement but not mobility. The body was tethered in place. In fact tethered to three different places. Effectively its upper body was elsewhere. Its lower body was grounded and located in place. What the body was hearing and seeing was what was happening the day before between 11:00 am – 5:00 pm in New York and London – the corresponding gallery hours in Perth.
The artist becomes optically and acoustically de-synchronized and performs partly involuntarily. It is as if the body has been electronically dismembered, spatially distributed and possessed with multiple agencies.
After the 5 days of performances, the exoskeleton remains interactive both in the gallery and online for the remainder of the exhibition. A video edit is projected, indicating what had occurred during the performance.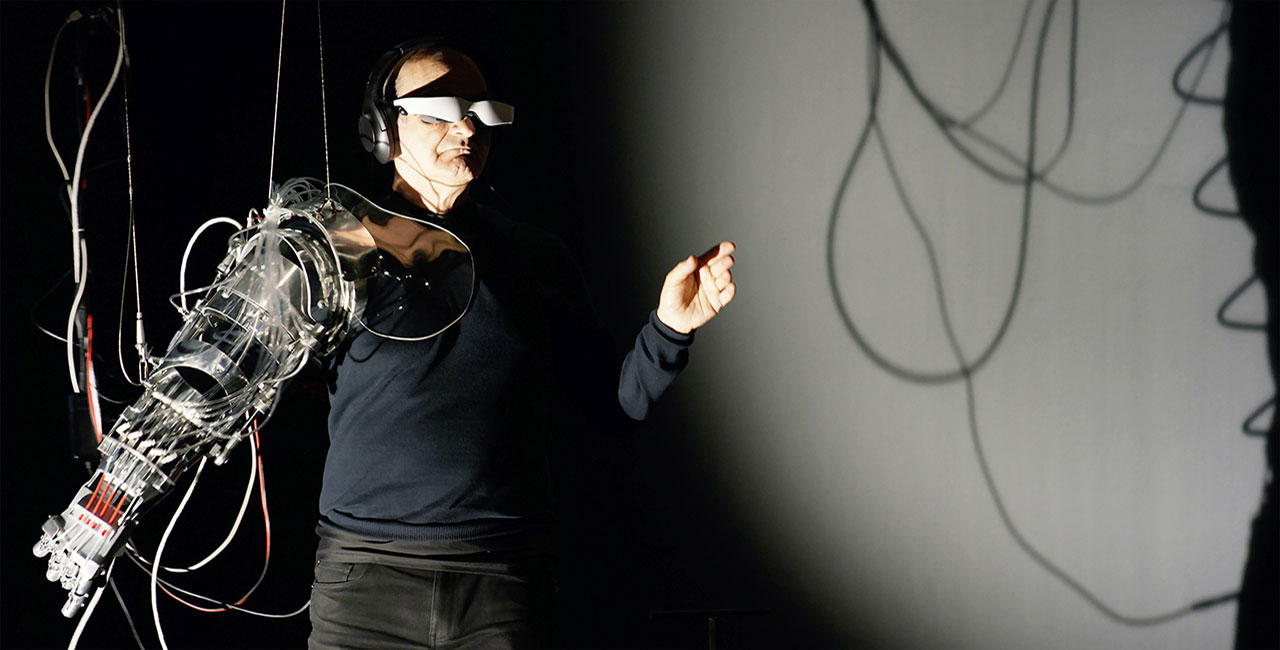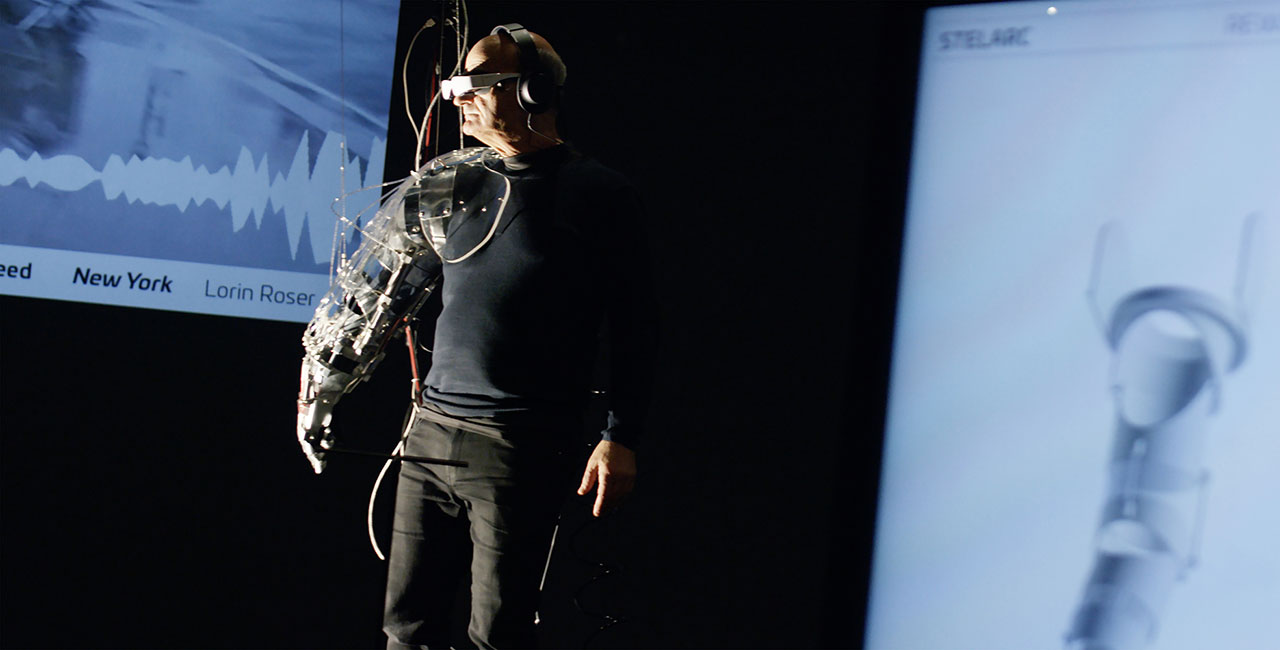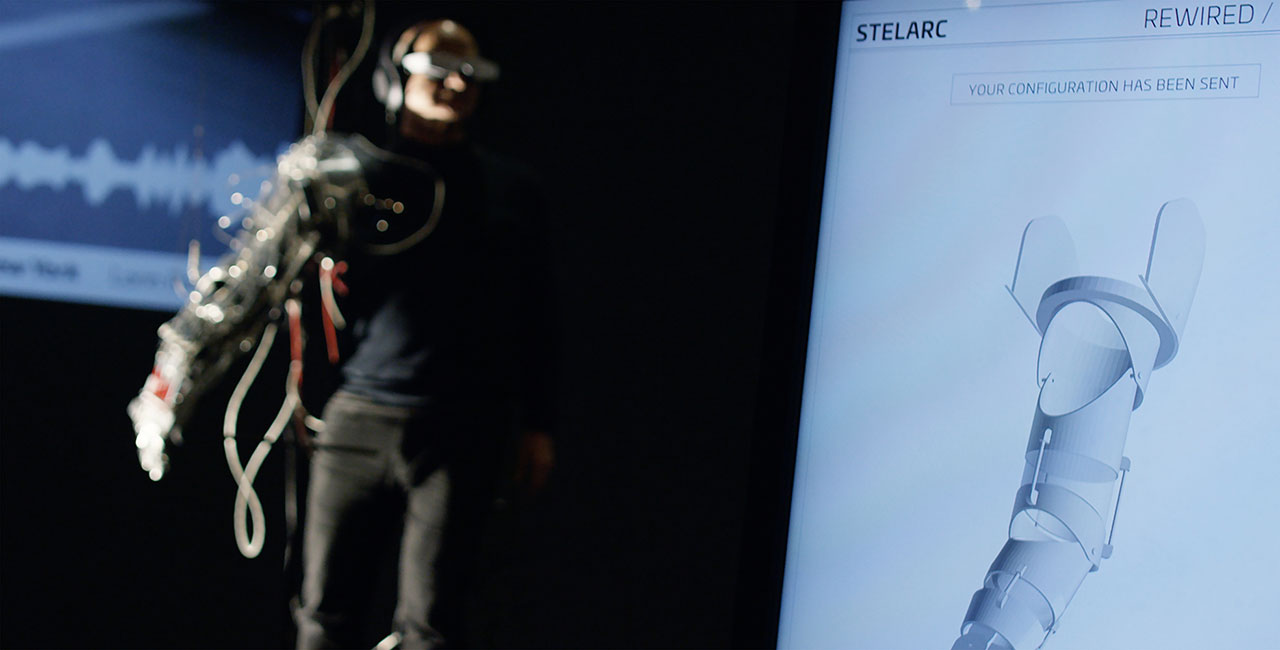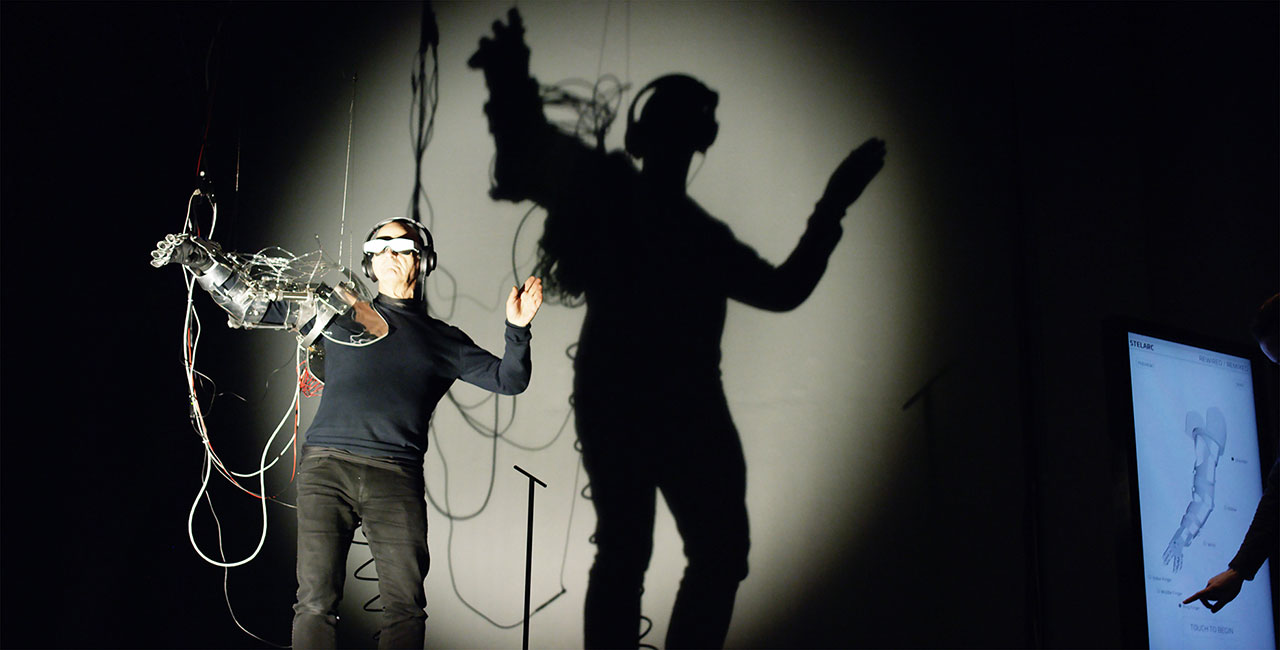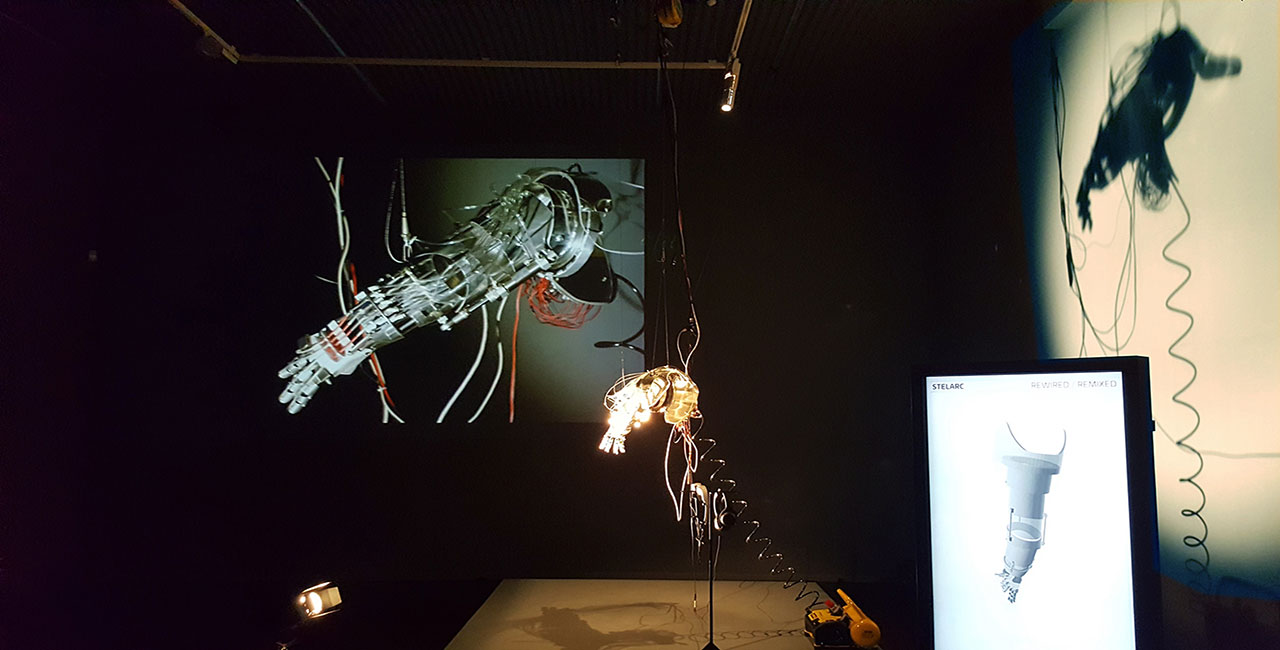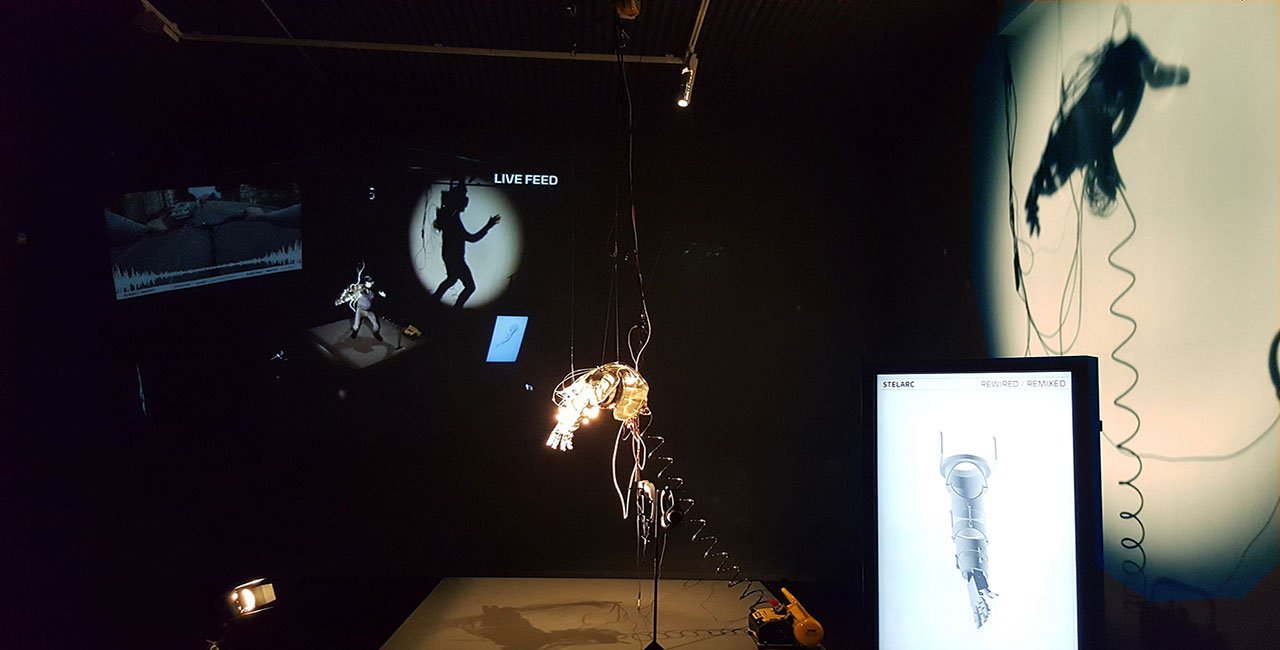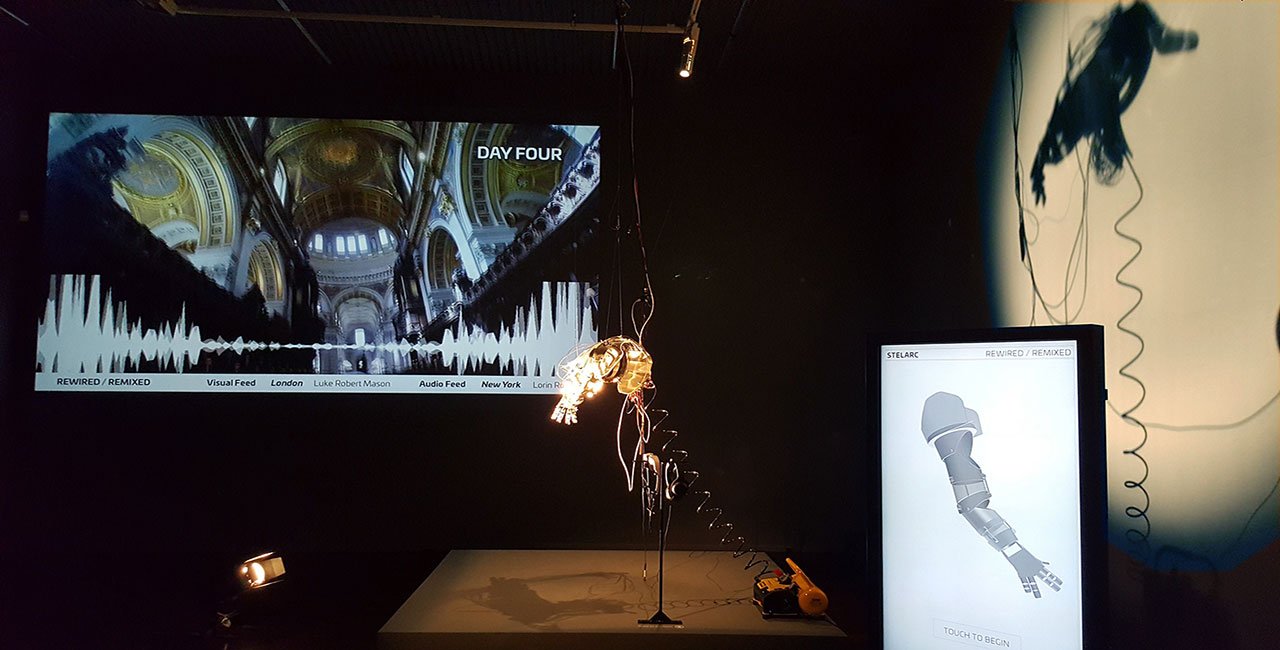 ACKNOWLEDGEMENTS
STEVEN AARON HUGHES – Project Coordinator, Media Production
RODNEY PARSONS – Engineering Exoskeleton Arm
STEVE BERRICK – Programming, Exoskeleton Touch Screen & Web Interface
LUKE ROBERT MASON – Vision from London
LORIN ROSER – Sound from New York
Video provided with the assistance of Tanya Drayton, Bodyworks Studios; Robert Devcic, GV Art; Valentina Serrati and Christine Bach, Performance Artist.
Special Thanks to Paul Caporn.
The performance was from the 3 -7 August, with the exoskeleton arm being
interactive from the 31 July – 4 September, 2015.
The performance and installation was part of the "Radical Ecologies" exhibition at PICA, Perth.
The performance and installation was made possible by a grant from the WA Department of Culture and the Arts, with support from PICA and Curtin University, Perth.